It's Week 13! And our Panthers have surpassed their season-long win total from 2010! In relaying that information, I will also make known that they have also exceeded my predicted — so I'm told — expectations of having another two-win season!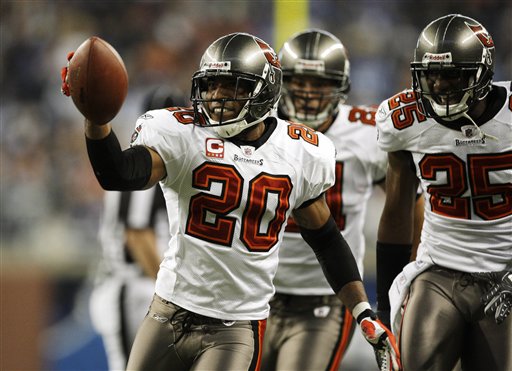 Regardless, there is progress being made, especially on offense. Of course not to slight the defensive efforts against Indianapolis, but c'mon…they had success against the winless Colts — a phrase that one season ago, would have been ludicrous.
So our Panthers hit the road this week, on their way to sunny Tampa Bay, where they will face the Buccaneers in their first-of-two battles within a four-week period. Now before I take someone else's job away by making this a whole game preview, allow me to get back on track for this week's edition of Paws and Claws!
More after the jump…
Last week I groaned about the excessive press coverage of something as trivial as Panthers' quarterback Cam Newton throwing a Gatorade towel on his head when he hit the bench on the sideline. Because, as we know, there is no news as important as what our quarterback does when he's on the sideline.
What Panthers fans saw: A rare game changing interception by the defense.
What local media saw: Cam Newton is wearing that towel on the sideline…It's good that the defense made a pick, but c'mon man; a towel on your head? After every series?! That's gotta stop.
I digress. We will spend as little time on the towel as possible this week. In fact, that will be the last mention of it … until the media makes mention of it again in five minutes.
This week's Paws section is realtively short and sweet: The Panthers beat the hapless Colts by eight points. I'll take it. Call it an ugly win — a win is a win, during an otherwise rebuilding season.
In addition, our very own Steve "Rules of the Game" Smith is nearing a career milestone, which he could…should meet, if not exceed, on Sunday, becoming the 35th receiver to reach 10,000 career yards receiving!
(It) probably means more to me that it probably should; it's a moment where time stops and you get to be selfish. -Panthers receiver, Steve Smith on reaching 10,000 career yards receiving
Switching gears, we'll transition to the Claws segment, and have a look at this week's opponent, thus allowing me to gripe about an otherwise seemingly common yearly occurrence when it comes time for Carolina to play the Bucs: Statements regarding Buccaneers' cornerback Ronde Barber.
As far as I can remember, this is seemingly a yearly event. At least once a season, some statement about Barber is presented by a member of Carolina's offense because, apparently, Barber is the only threat on the Bucs' defense worth mentioning.
This year it was, of course, Cam Newton presented with the task of making a statement about the 36 year-old defensive back.
But the one thing I see about Barber is he might be old but my man is playing with the best of them and he's smart. He's going to outsmart you. He watches film. It's evident watching him play. If he gets beat, he's going to beat you. -Panthers quarterback, Cam Newton
I don't have a problem with this per se, because Barber has been a big player for the Buccaneers on defense, and is due the respect and accolades he receives, but every year? I mean…Tampa bay does have other members on defense who create mayhem against their opponents, do they not?
Perhaps the abilities of Barber are being exaggerated a tad, based on his younger years and how newer athletes are remembering those glory days of Barber, persuading their thoughts to complimenting Barber. Maybe the school of thought is, "If I don't give him any ammo, he won't pick off as many or any passes.
My closing thoughts on this are, PICK SOMEONE ELSE TO COMPLIMENT!
Click the link to follow Eric on Twitter, @PSU_EQ.