Panthers: David Tepper says all the right things in press conference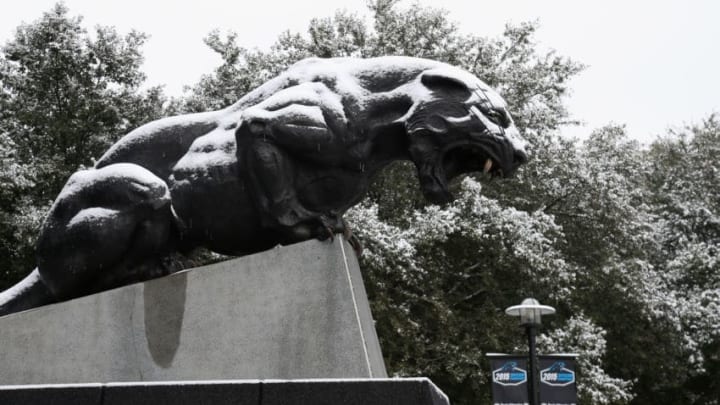 CHARLOTTE, NC - JANUARY 22: A statue in the snow at the home stadium of the Carolina Panthers at Bank of America Stadium on January 22, 2016 in Charlotte, North Carolina. A major snowstorm is forecasted for the East Coast this weekend with some areas expected to receive up to 1-2 feet of snow. (Photo by Streeter Lecka/Getty Images) /
The Carolina Panthers owner seems like he gets it….
In reading the transcript from his introductory press conference on Tuesday, it was hard not to get excited about the fact that David Tepper is now officially the new owner of the Carolina Panthers.
More from Cat Crave
I was excited when I heard he was expected to sign the deal back in May. As I wrote, he came from a culture of winning. If anything, the Pittsburgh Steelers have been a model franchise of the National Football League in terms of consistency and success. As a former minority owner of those Steelers, Tepper expects to bring those attributes with him to the Carolina Panthers.
Sifting through all the quotes from the press conference (with a tip of the cap to Max Henson of Panthers.com), one section in particular stood out to me. Tepper wants to make sure he does things the right way. With that comes an open line of communication.
""Openness and team," Tepper said. "I think there has been an atmosphere where this organization wasn't allowed to be a team, and was not able to go up and talk about things. There is going to be no impediment to that in the future. Let me say that again: There is going to be no impediment to that in the future. Whatever that brings, that will bring."It's a new day, a new future. And I don't want anything distracting us from winning a Super Bowl.""
As a Carolina Panthers fan, these are the types of things I want to hear. With everything that has transpired with previous owner Jerry Richardson, a system like this needs to be in place. The team needs to have trust, open lines of communication, and an environment where everyone feels safe and comfortable. In a high-pressure environment like this, sometimes it is easier said than done.  Even still, those are encouraging words to hear.
He, like the rest of the organization sounds ready to turn the page. That is a very good thing.
Let us not forget the last quote about winning. That is something he has been focused on ever since he took the job. He has all the pieces he needs to be successful. Now, he just needs to get the job done.
Getting the job done is something I am confident he can do. His press conference today proved that.
Next: Tina Becker resigns Panthers position as Chief Operating Officer
""I have one ring some place in my bottom drawer from that other organization. It had a little too much yellow in it," Tepper joked. "I've got to get one with more blue in it.""
Carolina Panthers fans, buckle your seatbelts. This is sure to be a fun ride.