Carolina Panthers and Baltimore Ravens potential 'ugly' matchup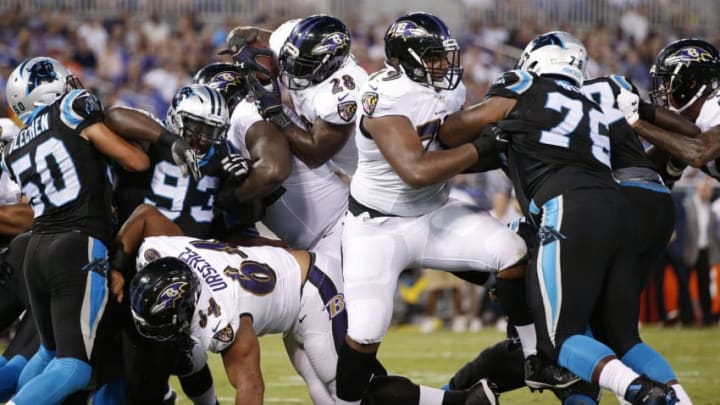 BALTIMORE, MD - AUGUST 11: Terrance West #28 of the Baltimore Ravens dives into the end zone for a one-yard touchdown in the second quarter of a preseason NFL game against the Carolina Panthers at M&T Bank Stadium on August 11, 2016 in Baltimore, Maryland. (Photo by Joe Robbins/Getty Images) /
Both the Carolina Panthers and Baltimore Ravens boast impressive defenses this week.
For the record, the last time the Baltimore Ravens and Carolina Panthers met was 2014, and 'ugly' was personified by the fact that Steve Smith was wearing the purple jersey of Baltimore instead of the Panthers blue he'd worn through 2013 while become the franchise career leader in reception yardage. Smith promised 'blood and guts' and delivered a 10 catch, 139 yard, two touchdown day as part of a 38-10 pasting by the Ravens.
Baltimore comes into Bank of America Stadium with a 4-3 record after kicker Justin Tucker missed the first extra point of his six-plus NFL career after 222 in a row, handing them a 24-23 loss versus a tie that would have sent the New Orleans game into overtime. The Panthers are 4-2 after a super fourth-quarter comeback against Philadelphia gave them a 21-17 win, with Newton getting Offensive Player of the Week honors for the victory. Both quarterbacks Joe Flacco for the Ravens and Cam Newton have 11 touchdowns against 4 interceptions on the year, although Flacco's 2,067 yards (187/303, 61.7-percent) is far higher, with the Ravens passing on 62-percent of their offensive snaps due to their rushing attack averaging a meager 77 yards a game (3.27 per carry).
The Ravens secondary is ranked No. 5, having given up eight touchdowns and 1,333 passing yards (avg. of 190 yards, 57.8-percent completions) so far, while Carolina ranks No. 9 with 11 touchdowns given up and averages of 260 yards a game and 68-percent completion rate, which shouldn't startle anyone who has watched games this year. (Tampa Bay owns the worst pass defense in the league, surrendering 328 yards per game, 75.4-percent completions and 18 touchdowns. New England is a surprising 26th, with 17 touchdowns against).
Be prepared for a defensive slug-fest
In the Big Picture, Baltimore is the No.1 defense in total yards per game (280) and scoring (14.4), and for a team that came off three quarters of a game with zero points, that should cause some worry within the Panthers faithful. Whether running back Christian McCaffrey gets more touches as a receiver or runner, it's going to take something more positive total yardage-wise than he's put up the last couple weeks. If he– or any combination of backs– get 100 against the Ravens, that would be cause for thinking about victory.
It's doubtful that check-downs will be enough, but the offensive line has been surprisingly solid versus beginning of the year expectations because of injuries. That Panthers average just over eight plays per scoring drive could be significant, and most teams can't score without the ball on offense, so keeping Flacco on the bench means the Carolina defense has the biggest job Sunday.
The two teams switch positions against the rush, with the Panthers No. 5 and Ravens No. 9, as Carolina has allowed 570 yards (4.2 avg./95 per game) and 4 touchdowns, Baltimore 631 (3.8 avg./90 yds. per game, 3 TD), with New Orleans leading several defensive categories with 434 yards, a 3.1 avg./72.3 per game, and 6 touchdowns. Baltimore leads the NFL in sacks with 27, primarily on the strength of an unreal 11 against the Tennessee Titans. Za'Darius Smith and the estimable Terrell Suggs both have 5.5 sacks.
This probably won't be a numbers game
More from Cat Crave
Flacco has always been considered a downfield passer, and he has three receivers with better 2018 stats better than the Panthers top wideout Devin Funchess (29/374 yds., 3 TD): John Brown (28/554 yds., 4 TD), Michael Crabtree (35/402 yds., 2 TD), and Willie Snead (33/336 yds., 1 TD). The Ravens quarterback has been sacked 12 times (plus two fumbles), although like the Panthers offensive line, they have been better about protection lately, with only three total sacks in last three games. His current completion average of 61.7-percent is in line with his career numbers, although he's ripped Carolina for an average of 23/32, 314 yds./2 TD during his career. If the secondary allows that kind of success and yardage Sunday, it will not be a joyful day for the Panthers.
For those who have been negative about some Panthers failures offensively, the Ravens lost to the Browns 12-9 earlier in the season. In a battle of field goal kickers, Graham Gano's 63-yarder to win the Giants game and 8/8 this year (29/30 in 2017) could be a standoff with the Ravens Justin Turner, who is the NFL's all-time accuracy leader, successful in 215 of 239 field goal attempts.
Winning ugly isn't the worst thing in the world, and counting on a big 4th quarter to keep their momentum going isn't something to expect from Panthers either. It figures to be a rock 'em-sock 'em afternoon for linebacker Luke Kuechly and company, a grinding couple hours for the offense. The single best factor in defense's favor is that Flacco has one of the worst habits a quarterback can have attributed to them– he forces a lot of passes into small windows, with only Sam Darnold (a rookie with Jets) and the often-maligned Blake Bortles (Jaguars) ranking lower.
This might turn out more like a tennis match, two sluggers beating each other around the court, with a best-of-five (field goals) kicker being the winner. It would be helpful if the Panthers defense put some sacks on Flacco while the offense kept Newton upright, and despite Funchess' terrific grab over the top of a defender against Washington, they still haven't used his physical size to throw 'up' passes in the end zone.