Carolina Panthers: Playoffs? Why fans should hope they get a chance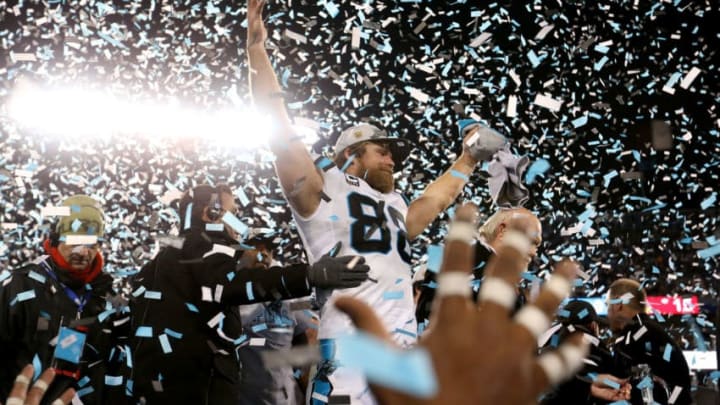 CHARLOTTE, NC - JANUARY 24: Greg Olsen #88 of the Carolina Panthers celebrates defeating the Arizona Cardinals with a score of 49 to 15 to win the NFC Championship Game at Bank of America Stadium on January 24, 2016 in Charlotte, North Carolina. (Photo by Streeter Lecka/Getty Images) /
CHARLOTTE, NC – JANUARY 24: Greg Olsen #88 of the Carolina Panthers celebrates defeating the Arizona Cardinals with a score of 49 to 15 to win the NFC Championship Game at Bank of America Stadium on January 24, 2016 in Charlotte, North Carolina. (Photo by Streeter Lecka/Getty Images) /
Why you should hope the Carolina Panthers make it into the 2018 playoffs.
The Carolina Panthers started the year winning six of their first eight games and looking like a safe bet for the playoffs by midyear. Then, a national television appearance on Thursday night and blistering from the Pittsburgh Steelers seemed to have derailed any hope for postseason play as the losses continue to pile up.
The Panthers haven't won since Week 9 (November 4), have just one road victory and are playing a franchise quarterback that appears to be battling a reoccurring shoulder injury. Behind new owner David Tepper, the coaching hot seat is near boiling for Ron Rivera and many fans are hoping for a complete collapse with two of three remaining against divisional rival New Orleans, and a fresh start to the 2019 season with a new coach.
However, the fact is despite five consecutive losses, Carolina is only one-half game removed from the No. 6 seed and even a couple more wins could punch their ticket to the playoffs. Even then, Rivera may not be safe but Tepper would have a more difficult decision on his hands.
Following are a few reasons a Panthers playoff berth would be beneficial.