Carolina Panthers: Training camp important for Andre Smith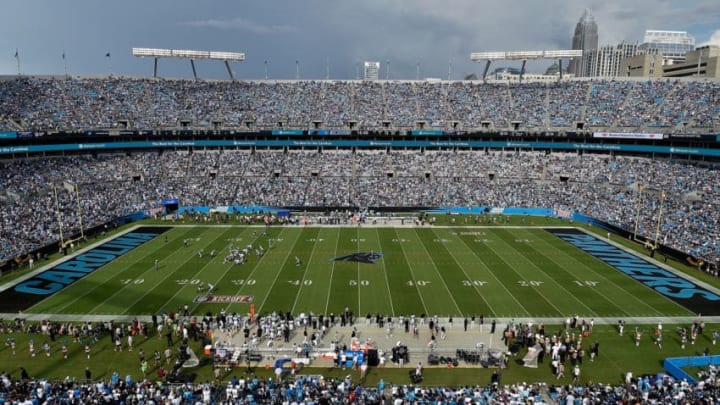 CHARLOTTE, NC - SEPTEMBER 09: A general view of the field with the Carolina Panthers logo replacing the NFL logo at the fifty yeard line before the game between the Carolina Panthers and the Dallas Cowboys at Bank of America Stadium on September 9, 2018 in Charlotte, North Carolina. (Photo by Grant Halverson/Getty Images) /
The Carolina Panthers linebacker has a lot of work to do this summer.
There is no doubt that Andre Smith can play the game of football. The former North Carolina product is now trying to make a name for himself with the Carolina Panthers. Playing the linebacker position, that may be easier said than done. Carolina has a ton of talent and looks to continue with the youth movement at the position. Of course, the top dog will be Luke Kuechly, and it does not look like anybody will be passing him on the linebacker depth chart anytime soon.
Even still, Smith's football pedigree is very noteworthy. As a sophomore in 2016, he recorded 113 tackles and a sack. His 57 assisted tackles were fifth overall in the ACC. The 113 total tackles was sixth overall in the ACC. Now, he looks to continue his success at the professional level. He was able to receive some playing time last year. He played in three games, recording three tackles.
Now, he looks to continue that upward momentum. Even still, it will be an uphill battle for him. Jermaine Carter is also battling for a spot on the roster, and that should make for an interesting dynamic come training camp. Both of those players are very talented, although Smith may have the edge. Bill Voth of Panthers.com touched on this a little bit in his weekly Grill Bill column published on Friday.
It is interesting to note that Voth thinks Carter has the edge at the position. Truthfully, I would call it a neck-and-neck race as we have not seen what these two can do yet in a  full season. That will probably be the case again this year, as there are more talented pieces at the position. Not only that, with players like Christian Miller and Bruce Irvin being added to the linebacker conversation, that doesn't help matters for Smith either. It will be interesting to see exactly where he falls in that regard for the Carolina Panthers. Voth has an idea.
"I don't think there's any question about it – Smith has a shot to stick around. But he's solely an inside guy who will compete with Jermaine Carter to back up Kuechly. Carter offers more position flexibility, so he has a leg up for playing time, but both second-year linebackers could be key depth/special teams pieces."
All Smith can do is hope for the best. As far as his outlook with the team goes, I would expect to see him a lot in the preseason. Particularly in the fourth preseason game, that should  be a big-time moment for Smith. That is the game where players on the bubble have one last shot to make their case to stay on the team. Smith should be able to see the field a lot.
Right now, his focus should be on training camp. He needs to show the coaches something that differentiates him from the rest of the linebackers. This is a big training camp for Andre Smith. Along with the pressures of playing in a state you are familiar with, he also has the pressure of being a fringe player. I certainly would not want to be put in his situation and I wish him nothing but the best.