Carolina Panthers: Time to see what Will Grier is made of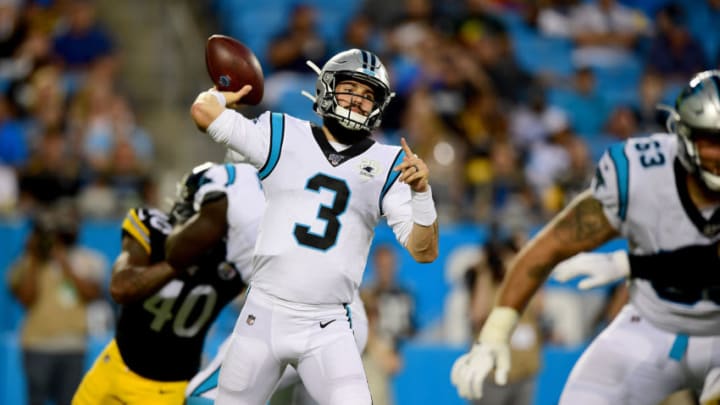 CHARLOTTE, NORTH CAROLINA - AUGUST 29: Will Grier #3 of the Carolina Panthers throws during their preseason game against the Pittsburgh Steelers at Bank of America Stadium on August 29, 2019 in Charlotte, North Carolina. (Photo by Jacob Kupferman/Getty Images) /
The Carolina Panthers will have a new quarterback under center come Sunday.
In what has been a roller coaster season for the Carolina Panthers, a rookie quarterback is going to get his first shot at NFL action. Will Grier is set to make his first start on Sunday against the Indianapolis Colts.
Grier, who was a third-round pick out of West Virginia in the 2019 Draft, played quite a bit during the preseason. He played in four games, going 34-of-61 in total. Passing for 385 yards, two touchdowns, and three interceptions, his performance in the preseason was a mixed bag of results. To be fair, I didn't expect the rookie to play at a Pro Bowl-caliber level right off the bat.
Now, he enters Sunday's game looking to stop his team's losing streak. A win over the Colts on Sunday would go a long way toward lifting the spirits of this football team. It would be nice to end the 2019 regular-season on a high note, and it would give the team something to build off for 2020. A win here for Grier would also give him something to hang his hat on in his rookie year.
In watching the preseason games, he definitely has what it takes to be a decent starting quarterback in the National Football League. One of the things he struggled with during the preseason was his vision. Sometimes, he honed in on a certain receiver too much.
Another thing he struggled with at times was his accuracy. There is no doubt he has tremendous arm strength, he just has to develop a bit more touch on his throws. Both of those things are fixable, and if he can get those things in  control, he should be able to be a viable option for the Carolina Panthers in the future.
Right now, everyone is going to see what he is made of. I like this decision by Perry  Fewell. There is no doubt that the organization is taking stock of the quarterback room, and that's exactly what they need to do. The quarterback position is going to be one that is heavily focused on in the future. The Panthers might as well see what they have on the roster. That is something that could be said for the entire roster as the organization looks to move in a new direction in the 2020 season. First, the Carolina Panthers have to finish what has been an underwhelming 2019 season. Here is hoping that Grier can right the ship.