Carolina Panthers: Week 8 awards in loss vs. the Falcons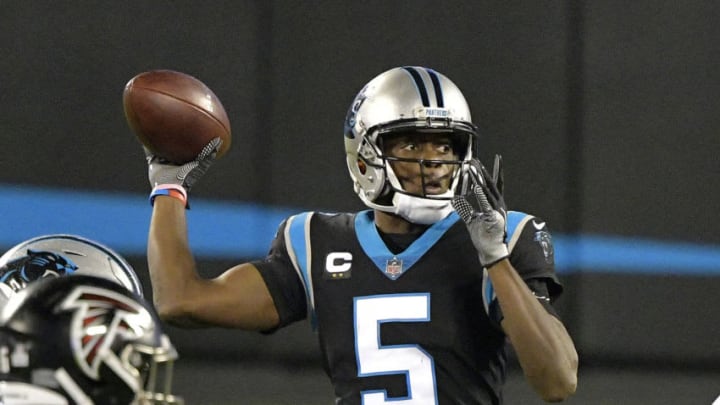 (Photo by Grant Halverson/Getty Images) Teddy Bridgewater /
(Photo by Grant Halverson/Getty Images) Brian Burns /
Week 8 awards for the Carolina Panthers.
After Thursday night's loss to the Atlanta Falcons, the Carolina Panthers find themselves at a season-low three-game losing streak.
To make matters worse, the Carolina Panthers face the Kansas City Chiefs on the road next week, followed by the extremely hot Tampa Bay Buccaneers. This is a difficult two-week stretch when the team desperately needs a win if they plan on staying in the playoff conversation.
Another turnaround the Panthers need at the moment is to win close games, something they found a way to do during their three-game win streak. Unfortunately, Carolina fell again in a one-possession game for the third week in a row.
The game itself felt odd at times as the offense never seemed to find a groove. The first touchdown came after two Falcons' penalties giving the Panthers continuous first downs when the drive could have easily stalled.
The second score occurred when the offense started at the 40-yard line after an interception by Donte Jackson, leading to Curtis Samuel finding the end zone off a flea-flicker.
Both touchdown drives felt like anomalies. The rest of the game showed nothing inspiring, with only one other drive ending in a field goal.
The only reason Panthers' fans held out hope at the end the offense could get anything going was the Falcons this year are notorious for blowing leads. But unfortunately, it never happened.
Even though the Panthers didn't find a way to continue the Falcons' blown lead saga, here are some individual awards from the Week 8 loss.