Carolina Panthers: Week 8 awards in loss vs. the Falcons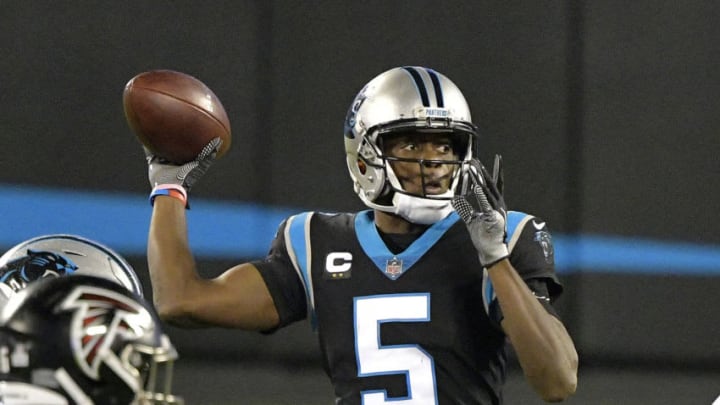 (Photo by Grant Halverson/Getty Images) Teddy Bridgewater /
(Jim Dedmon-USA TODAY Sports) Teddy Bridgewater /
Carolina Panthers Week 8 Awards: Teddy Bridgewater – MVP
Teddy Bridgewater might come off as an odd pick after not having his best game of the year. But it was due more to the poor offensive line play than his production.
Throughout the game, Bridgewater was always pressured with little time to decide where to go with the ball. In the Week 6 awards, I stated how value isn't always determined by who plays, but who doesn't play. The same is true for the quarterback this week.
Late in the third quarter, Bridgewater was hit in the head region after being tripped by Dante Fowler Jr. and crushed by Charles Harris, forcing the signal-caller to leave the game until returning in the fourth quarter.
The game was close at that point, but hope started to fade.
The confidence in P.J. Walker to lead a comeback wasn't there. Bridgewater's need to be under center was evident. Until that point, the free-agent signing had been hammered play after play by opposing defenders and kept the Panthers in the game by staying composed.
Sure, Bridgewater didn't have his flashiest or stat breaking week, but he battled hard and gave other players something to fight for. He might not always come off as the MVP for the Panthers, but his performance was the main reason the game was only an eight-point loss.