Carolina Panthers: Week 8 awards in loss vs. the Falcons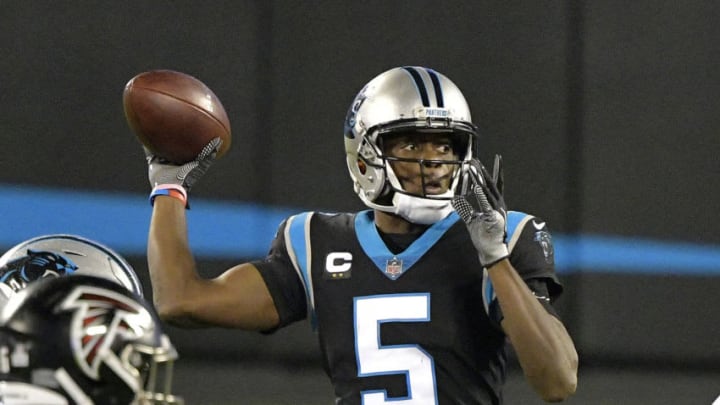 (Photo by Grant Halverson/Getty Images) Teddy Bridgewater /
(Photo by Grant Halverson/Getty Images) Teddy Bridgewater /
Carolina Panthers Awards: Offensive Line – Disappointing Player of the Game
It's not technically one player, but the whole offensive line struggled throughout the game and it seemed impossible to pick just one who went through the most turmoil.
The line couldn't protect Teddy Bridgewater all game. They gave up three sacks, and for the entire night, the quarterback was under pressure with no time to decide where to go with the ball.
Part of the blame can be attributed to Bridgewater as it is his job to call out protections and move the line when necessary. Something that seemed of an issue with how many times the Falcons had a free rusher coming straight into his path.
Most notably, the interior protection struggled to improve this week. If this continues, Bridgewater won't have a fun year under center with constant pressure on him.
The line must improve if the Panthers plan to return to the form they were in on their three-game winning streak. The current state of play is thwarting the offense and could lead to possible injuries as Bridgewater can only take so much damage during a game.
Protection is a vital area that needs to improve quickly with the Chiefs and Buccaneers, who both possess dominant front-sevens, coming up next on Carolina's schedule.