Luke Kuechly is mentoring Jeremy Chinn to superstardom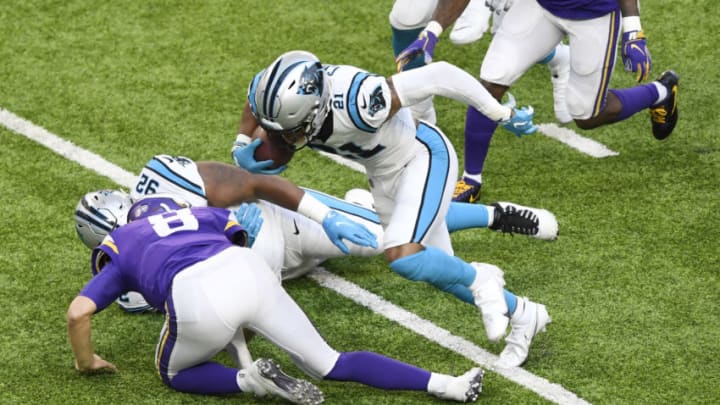 (Photo by Hannah Foslien/Getty Images) Jeremy Chinn /
(Syndication: Cincinnati) Luke Kuechly /
How Luke Kuechly is helping Jeremy Chinn
It's clear that Luke Kuechly still loves the game of football. He didn't retire due to a lack of passion, but to preserve his health after a number of concussions throughout his career.
Few would argue that Kuechly didn't earn this right after all he gave to the Carolina Panthers over a glittering eight-year spell with the organization. But the front office made the smart move to keep him around in the role of a pro scout after formally putting him on the reserve/retired list.
To the surprise of very few, this is a role Kuechly is taking very seriously.
His input has been invaluable during a period of transition and in Jeremy Chinn's case, the five-time All-Pro is going above and beyond the call of duty to ensure the rookie makes the most out of his outstanding athletic attributes.
Speaking to Sirius XM NFL Radio, Chinn outlined the level of involvement Kuechly is having on a young roster and him in particular, which has left him almost in awe of one of the greatest to ever play the linebacker position.
""It's really unbelievable just watching film with him. He's not a coach so he doesn't have to do any of that stuff but when the day is over we'll get into the film room and watch some tape. The way he (Kuechly) analyzes film and gives you pointers on certain plays and what might be coming, why defense is tighter on the line of scrimmage and he knows exactly what's going on. It's great to pick his brain and he gives me tips on how to take care of my body at this point early in my career.""
This tells us a significant amount about how seriously Kuechly is taking his new role and what an influence he's been on Chinn's early development. A young player couldn't ask for a better role model and this is sure to benefit the Panthers considerably in the years to come.