Who is winning the WR battles at Carolina Panthers training camp?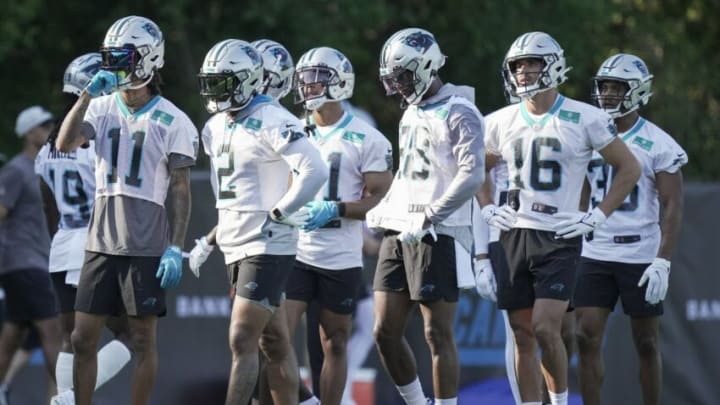 (Jim Dedmon-USA TODAY Sports) Carolina Panthers wide receivers /
(Jim Dedmon-USA TODAY Sports) D.J. Moore /
What could the Carolina Panthers WR depth chart look like?
This is a really tricky one to decide currently.
The Carolina Panthers have some difficult decisions to make regarding their wide receivers. Although things should become clearer over the next fortnight.
The top two are undisputed and vital to the team's chances. Others appear a lock to make the roster and might even lead to a couple of wildcards being thrown in with high upside.
Here is what one is predicting at the moment.
D.J. Moore – WR1
Robby Anderson – WR2
Terrace Marshall Jr. – WR3
David Moore – WR4
Shi Smith – WR5
Brandon Zylstra – WR6
Omar Bayless – WR7
Now, taking seven receivers onto the roster might be one too many. However, if the Panthers run the risk of stashing someone like Bayless on the practice squad, it might see another team scoop him off the waiver wire before they get the chance.
If they end up going with six, then Bayless and Ishmael Hyman would be the two practice squad players. But this is a fluid situation that's worth monitoring closely before the final cuts are made.
There appears to be a lot to fight for at the present time. One thing for certain is the Panthers can expect big things from this group next season and possibly beyond.