Everything you need to know about Panthers training camp in 2022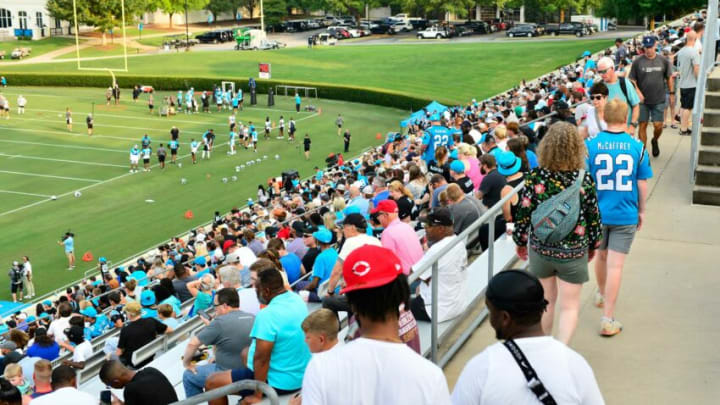 (Alex Hicks Jr./Spartanburg Herald-Journal via IMAGN Content Services) Carolina Panthers training camp practice /
The Carolina Panthers are about to embark on their third training camp under head coach Matt Rhule as preparations ramp up for the 2022 season. 
At last, the wait is almost over.
The Carolina Panthers are now gearing up for what promises to be another fascinating training camp for the organization ahead of the new season. Things are hanging in the balance regarding their fortunes in 2022, so what transpires over the next few weeks will tell fans a lot about what exactly they can expect from the team moving forward.
Matt Rhule has a revamped coaching staff in place and the Panthers worked tirelessly to strengthen problem positional groups in free agency, the draft, and the trade market to give the roster a better sense of balance.
Obviously, things will not be easy on a difficult-looking schedule. But if the Panthers come together quickly in camp and start well over the first few games, it could see them far exceed the lowly expectations set by the national media.
When does Carolina Panthers training camp start?
Rookies and veterans will report to training camp on Tuesday, July 26.
They will familiarize themselves with their surroundings before taking to the practice field for an intense series of sessions before their preseason opener.
Where is Carolina Panthers training camp located?
The Panthers will descend on Wofford College in Spartanburg, South Carolina once again for this year's training camp, which could be the long-term plan after team owner David Tepper pulled the plug on their lavish new headquarters situated in Rock Hill.
Is Carolina Panthers training camp open to the public?
Fans will be allowed to attend the training camp sessions on a first-come, first-seat basis on the famous grassy hill.
Carolina Panthers training camp schedule
Practice: Wednesday, July 27 – 11:15 a.m
Practice: Thursday, July 28 – 10:30 am
Practice: Friday, July 29 – 10:30 am
Back Together Saturday at Gibbs Stadium: Saturday, July 30 – 7:00 pm
Practice: Monday, August 1 – 10:30 am
Practice: Tuesday, August 2 – 10:30 am
Practice: Wednesday, August 3 – 10:30 am
Practice: Friday, August 5 – 10:30 am
Practice: Saturday, August 6 – 8:30 am
Practice: Monday, August 8 – 10:30 am
Practice: Tuesday, August 9 – 10:30 am
Final Camp Practice: Wednesday, August 10 – 10:30 am
Fan Fest at Bank of America Stadium: Thursday, August 11 – 7:00 pm
How to get Carolina Panthers training camp tickets
Anyone wishing to purchase tickets for Fan Fest can do so here.
As stated previously, other practices are free to attend on a first-come, first-served basis.
Is Carolina Panthers training camp being streamed anywhere?
No official announcements regarding streamed practices have been confirmed by the Panthers as yet. However, keep an eye on their social media channels as they have tended to do this over the years.
There are normally fans filming from the grassy hill when permitted, so keep an eye out for those, too. As is usually the case, the team will be broadcasting interviews live.