4 pros and cons to the Carolina Panthers signing Derek Carr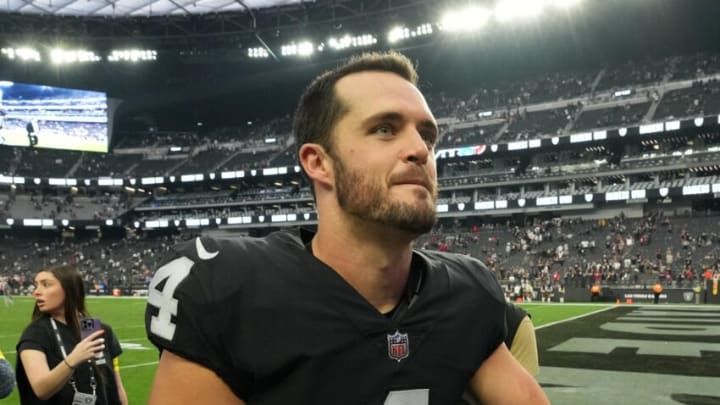 (Kirby Lee-USA TODAY Sports) Derek Carr /
(Stephen R. Sylvanie-USA TODAY Sports) Derek Carr /
Carolina Panthers would take a sideways step
As stated previously, Derek Carr could thrive with additional motivation in 2023. However, after so much mismanagement at the quarterback position under Matt Rhule, many would see this as another sideways step by the Carolina Panthers.
General manager Scott Fitterer recently highlighted his preference to draft and develop, building around a rookie contract at a time when the Panthers looked primed to take a substantial leap in the right direction. The front office figure also seemed confident other areas of the roster were solid enough to make a bold move up the pecking order if the right deal could be struck.
""I think you've got to have conviction. If there's a guy in this class that you like, you got to go up and go get him. We're in a position now where we have a defense, we have an offensive line. We built around this for this opportunity. So if you have conviction, go get him. If not, you don't want to force it. You don't want to take a player and pass on a really good player, that might set you back. But you can't be afraid to take a shot if you believe that's the guy.""
This sort of move would provide the Panthers with a long-term, concise plan for stability at the quarterback position. Frank Reich has also assembled a coaching staff capable of nurturing talent exceptionally.
These signs point to a college signal-caller. Whether Carr could take on coaching in a similar fashion at this stage of his career is highly debatable.